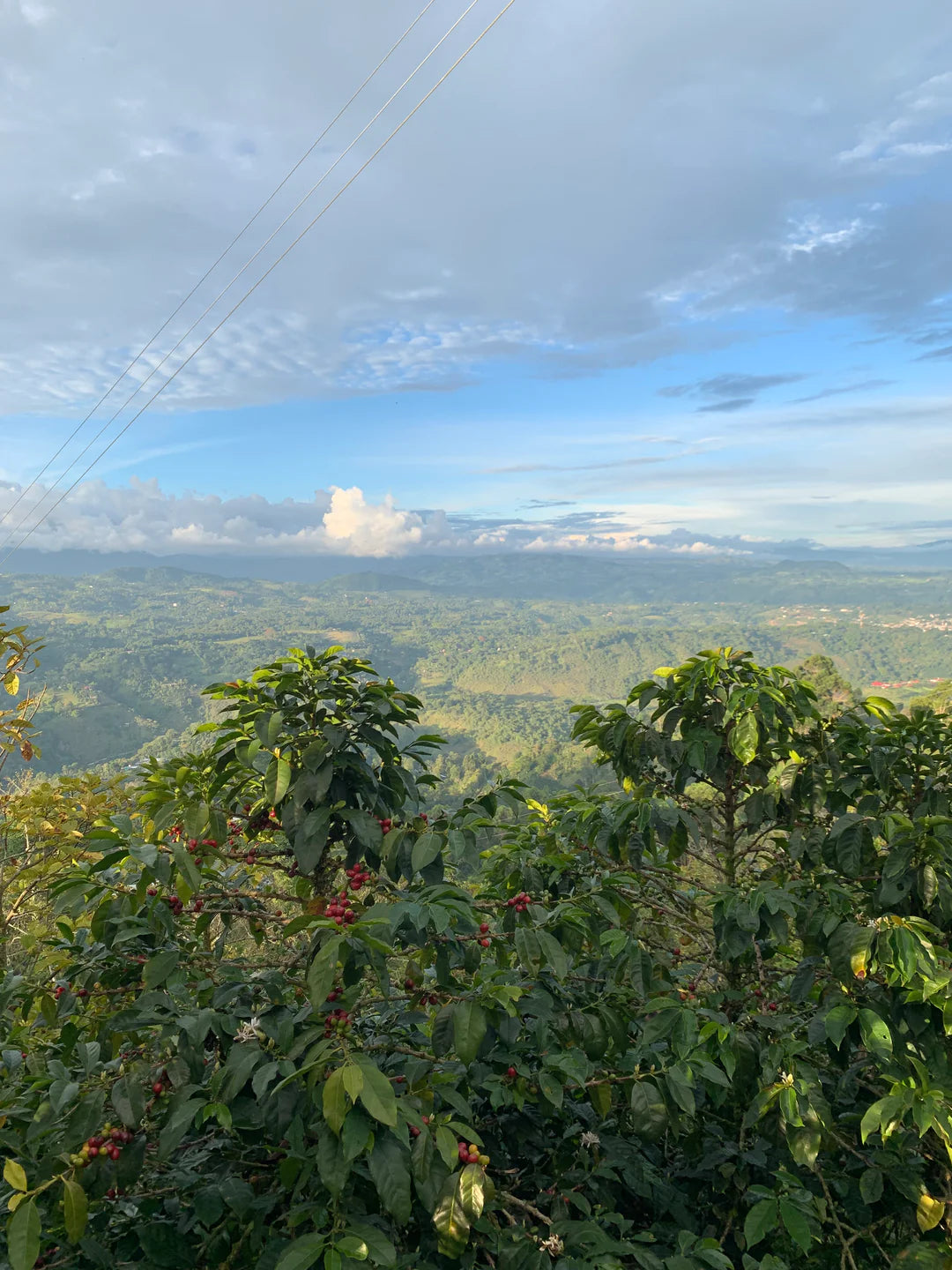 Coffee Harvest & Process
Variety: Caturra
Farm: La Curva
Location: Sevilla, San Agustin, Huila
Altitude: 1900masl
Farm size: 2 hectares, 1.7 hectares in coffee
Harvest: Flycrop 2023. Harvested June - August, shipped October.
Process: Washed
Cherries are collected over the course of a week, every three weeks. The first day'scollection is left to ferment for 24 hours while the second day is added to the already fermented cherries and depulped the same day. The depulped seeds then undergo an 18 hour dry ferment before being rinsed once to remove the heaviest mucilage. The seeds are then moved to another tank where they are left in a small layer of water to ferment until the and are left to ferment for 24 hours, until the week's collecting ends. The parchment is rinsed one more time and then placed in a solar dryer for 18 days of drying.
Price Transparency
Farmgate price: 3,000,000 Colombian Pesos per carga
National farmgate price September 2022: 2,450,000
Colombian Pesos per carga FOB price: $3.91USD/lb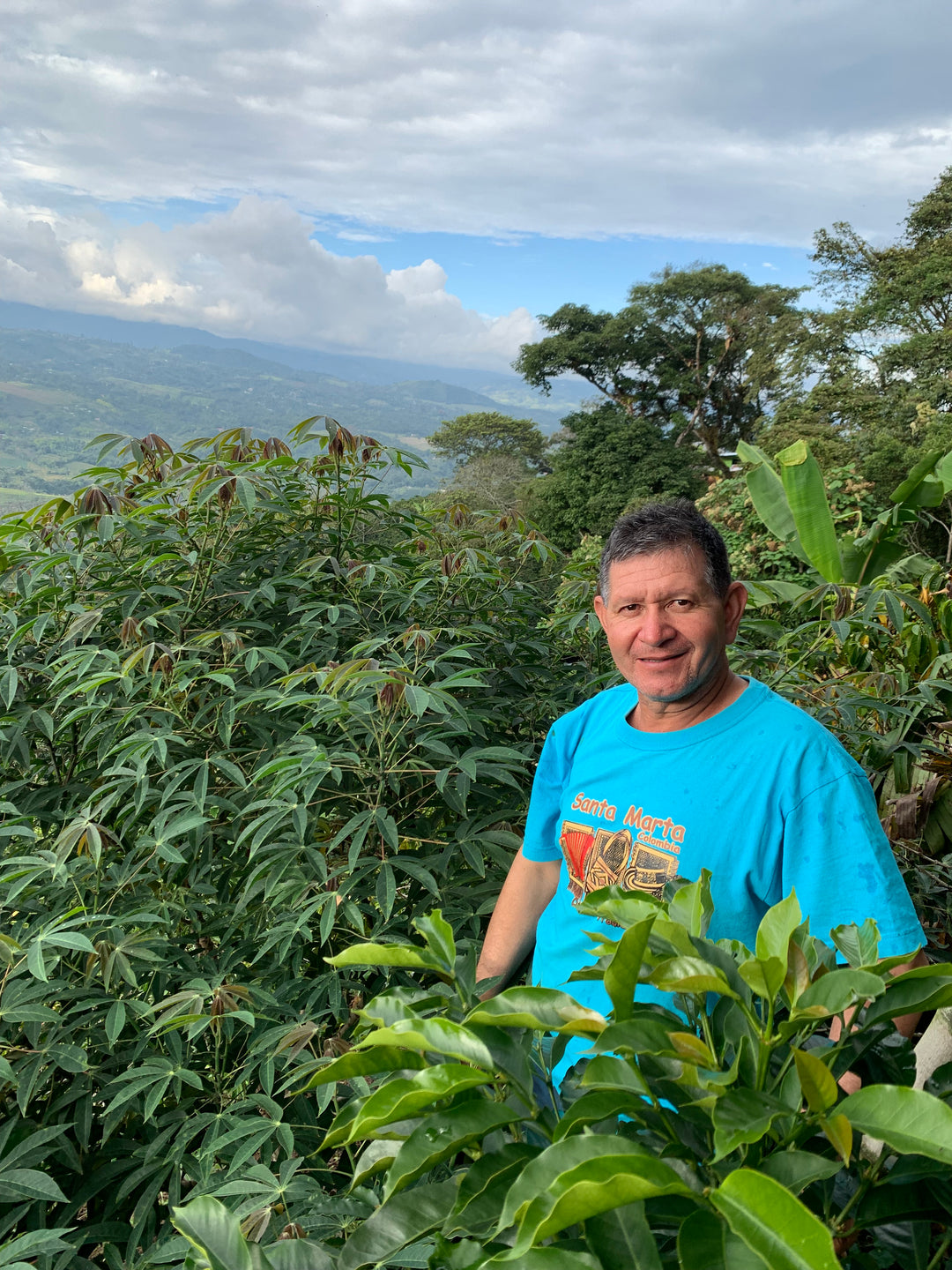 Meet Benedicto Fernandez
Benedicto is a new producer to the Monkaaba network, and has perhaps one of the most unique stories of any of those we work with. Born in Bogota to a potato growing family, his first employment was in the construction industry some forty years ago. He would spend ten years working as an apprentice and another ten as a construction manager before he set out on his own as an independent contractor. This work put him in contact with the oil industry, where he worked for six years before a serious accident left him injured in his left knee and unable to safely pursue his lifelong career.
In the uncertain times that followed, his fond childhood memories of growing up in the potato farms led him to explore rural areas near Bogota, and to spend lots of time in the city's parks. It was in the central park of Salitre in Bogota where he would happen to meet his future wife, Rosa Ruiz, from San Agustin, Huila. Some three months later, they would make their first visit together to the area and Benedicto immediately fell in love with the countryside and the culture of San Agustin, though it was impossible to consider leaving Bogota at this time for financial reasons.
In the year 2000, they were offered the chance to purchase a half hectare of land in San Agustin from Doña Rosa's father, and they would do, but leave it under the supervision of a neighbour which didn't work out as they hoped. Instead of seeing financial return from the farm, they were constantly sending money to support it. This experience pushed them to finally make the step to move permanently to San Agustin in 2003, where Don Benedicto promptly got to work planting 1200 Caturra trees and starting a seedling greenhouse.
Over the next 12 years, they would slowly grow the farm from the half hectare theystarted with to the two hectares they now manage. And while it was a dream come true from Benedicto to return to his farming roots, coffee production has not been simple for him and his wife.With his first harvests in 2005, he hoped he would see his coffee sold under his own name, only to find it purchased and blended it with whatever was in the bodega that day. This experience of seeing his hard work discredited and ignored led him to choose to sell either to the local "black market" (intermediary buyers) or to the local cooperatives for the daily minimum price, a practice that he would continue until 2022 when Olgar Ortega, Esnaider Ortega's father, encouraged him to bring his coffee forth to the group. He was thrilled to know that his coffee cupped well on delivery, and has now recommitted himself to the goal of producing specialty coffee in his farm thanks to the motivation of this, his first ever lot sold in his name from his farm, nearly 20 years after buying it.
The Decline of Caturra in Huila
Since Semilla's first connection with San Agustin, we were shocked to see the prevalence of the Pink Bourbon variety, and the sheer scarcity of other heirloom varieties - like Caturra - that we would consider typical to Colombia. While Pink Bourbon is of course incredible, Colombian Caturras have always been reminiscent for us of the things that made us fall in love with specialty coffee - clean and crisp coffees, with sparkling acidity and a wide range of flavour potential. With nearly every farm we visited, however, we heard how there used to be Caturra or Catuai, but it was now gone, replaced with the more resistant Pink Bourbon or Castillo.In the case of Sonia, this makes her microlot addition that much more exciting to us. Not only is she a young, female smallholder, she's also managing a potentially soon to be non-existent crop in her small plot of Caturra. Indeed, even talented growers like Esnaider are replacing their Caturras as the changing climate has led to such aggressive disease penetration that combating them almost guarantees a destroyed soil system that leads to reduced quality. In other words, either la roya gets the plants or the treatments do. This is of course due to the rapid warming of the San Agustin region, coupled with increasingly erratic weather that has thrown the traditional coffee growing calendar out the window.
Without consistent weather, crop management is severely complicated as excess rainfall affects foliar treatment schedules and applications, while excess heat hastens the spread of disease.While we can at least take solace in the fact that Pink Bourbon has met success in the region, there is evidence that its resistance is also now being broken by coffee leaf rust. The moral of the story? Enjoy coffee as we know it now, as there's no guarantee it will stick around even for our lifetimes.That being said, just as with our work in Honduras, we believe the surest way to enjoy these coffees while we can is to take the risk of working with smallholders who manage them now, and pay them exceptional prices so that managing the diseases can at least be entertained as a concept.In a conventional buying system, or even one of regional blending, expecting smallholders to fight to preserve their heirloom varieties without supporting them financially for doing so is a surefire way to hasten their demise.
About Monkaaba
Monkaaba is a smallholder coffee grower empowerment initiative based in San Agustin and led by Esnaider Ortega Gomez and select other growers who have worked for many years to sell their coffee as specialty. Many of them are associated loosely or directly with the Los Naranjos group and have in recent years begun to feel that they would like to develop more autonomy over the coffee production as well as involvement in its marketing and sale.Monkaaba's goal then is to assist other growers in the area to not only find a bettermarket for their coffee, one that pays a solid price, but also to invest in the knowledge and skill of producers in a way that ensures their future success.
The idea for this came to Esnaider thanks to his experience over the last ten yearsworking as a sample roaster and cupper. While he was always happy to see producers receive a solid price for their coffees through this exporter, he noticed that there was very little understanding at the buyer level of what went into coffee production. Too often he watched coffees produced by people he knew be rejected due to a single cupping session, and for this producer to receive little explanation of why it was rejected or what could be improved. What worried him the most was how this process could be confusing or demotivating to producers seeking to enter the specialty market, and he knew there had to be many who were being overlooked as a result.Over Semilla's time getting to know Esnaider, he has been nothing but concerned in the overall well being of all coffee producers in Huila. Rather than focusing only on his own success as a grower, he wants to see all those around him engaged in sustainable, meaningful relationships. Now with Monkaaba, he commits himself to this on the daily. Not only does he hold weekly cupping sessions for all producers who would like to have their samples evaluated, but he also invites all those willing and interested to come and cup alongside him.The early results have been amazing as he's collected coffees from all over the areaand hosted growers of all levels of experience and age at his farm, to cup and todiscuss in depth about their goals and dreams and challenges.This type of project, we believe, is vital to the future of specialty coffee as a whole and is exactly what Semilla always seeks to support. We wish to see producers engaged in learning about their own product and understanding how to improve it, while our role is then to give feedback and to serve as a conduit of this work to you, the roaster, such that we can develop stronger, more authentic relationships together.
A Note from Esnaider on Monkaaba
"This last year has seen a very unique change in my life. After producing coffee with my family for many years, I decided to focus my efforts not only in producing and marketing our coffees but I wanted to go further with a group of friends.My friend Brendan Adams of Semilla coffee gave us the opportunity to be able to learn, work, and grow together in this great dream, looking for a real impact in the coffee supply chain.
It was a big change in my life, with moments of despair and discomfort, because many times we felt we were trying to make a change in a system where trust had been lost. This system, in which I have felt for a long time and where I am more than sure now, where we as small producers have been like instruments for companies —big or small — where they are only trying to protect their own interests while we're left to carry a very high percentage of the risks.
The curious thing about it all is to continue hearing lots of people saying that theywant a change, where the really important people are the producers but deep down,we don't know what their intentions are. They say we're important but still they're not ready to share the risks.
On the other hand, this year gave me the chance to share and learn from producers who have dedicated all their life to this great work. To hear their experiences helped me to understand a little about the past and how until today there has been no significant or equitable change in our region where we have produced coffee for more than 50 years, where the biggest problem continues being the lack of good sales channels. I also shared stories with young people and to hear their short but emotional experiences — where they let us enter into their lives, to share a coffee in their houses and always make us feel welcomed like we were family, to know their dreams in coffee, where they always are looking for a real change that will bring us to a better quality of life — this is what makes us continue ahead, armed with strong belief in this project where we want to achieve real relationships.Today more than ever I feel committed, not only with myself and my family but alsowith local friends and producers because they have put their trust and vision in us."
---
← Older post Newer post →